Jason Reeder, DVM, DACVIM (SAIM)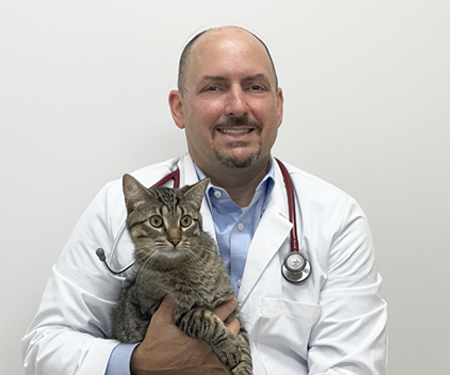 Dr. Reeder grew up in Massachusetts and attended college in New England, earning his Bachelor of Arts in Philosophy in 1989. He moved to Portland in 1990 and followed a variety of career directions in his early professional life, including paralegal work, organizational redesign consulting, acoustic guitar building, and remodeling of old homes— all before embarking on his veterinary career. He received his DVM from Tufts University School of Veterinary Medicine in 2003 and completed a rotating internship in medicine and surgery at the University of Minnesota in 2004. He returned to Portland and worked as a staff veterinarian at DoveLewis Emergency Animal Hospital for two years before pursuing a 3-year residency in small animal internal medicine at North Carolina State University. Thereafter he achieved board certification with the ACVIM. Dr. Reeder's residency research focused on hematology and bone marrow biopsy in dogs, and his study was published in the Journal of the American Animal Hospital Association (JAAHA) in January 2013.
Since the beginning of his private practice career as an Internal Medicine specialist, Dr. Reeder has developed a studied approach to a broad array of clinical conditions, including hepatobiliary disease, urology, hematology, endocrinology, gastroenterology, infectious disease and immune-mediated disease. He has distinguished himself with his methodical and thorough approach to diagnosis, treatment and client education. After two years practicing as the sole internist at Cape Cod Veterinary Specialists in Massachusetts, Dr. Reeder returned to Portland once again to join the Internal Medicine team at VCA Northwest Veterinary Specialists. He formed a professional collaborative association with Dr. Kuchenmeister in interventional radiology and interventional endoscopy until he left NWVS in 2017. Since then, they have continued to perform minimally invasive procedures together in several venues around the Pacific Northwest.